"Smarter, more competitive, more productive
There is no doubt in the mind of Australia's Chief Scientist, Professor Ian Chubb, the future will be shaped by science technology, engineering and mathematics.  Unfortunately, he finds that at present the standing of science, as an expert authority, is being challenged.  Furthermore, Ian Chubb finds that the science message is getting lost in the white noise of the mainstream media.  I was heartened to hear his positive words about science communication, social media, science and technology education and innovative Australian workplaces.
These were the messages from Ian Chubb at an address he gave as part of NICTA's Big Picture Seminar series on Wednesday March 28, 2012 at the University of Melbourne.
It was refreshing to see Australia's Chief Scientist out and about and addressing public forums such as this one.  Although judging by the faces, the suits and the overheard conversations at the drinks and nibbles prior to the address, I think this was definitely a speech to the science and technology faithful.  That is a pity, his words were worth  exposure and considered comment in the mainstream Australian media.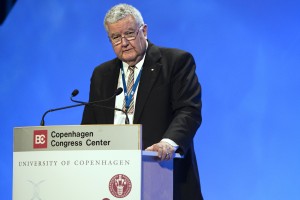 Professor Ian Chubb emphasises Mathematics, Engineering and Science provide the enabling skills and knowledge that underpin every aspect of modern life. They help us understand the natural world and enable us to respond as humans to this world with a constructed view aimed at improving the lot of human kind.
In Australia, as in many economies, we have observed a decline in the number of people choosing a career in these disciplines.  Not only that, the STEM subjects (Science Technology Engineering and Mathematics), as he called them, are taken for granted or simply ignored.   Although it is obvious without at least an appreciation of these subjects, a modern citizen is hampered in their ability to critically evaluate and make informed decisions about the issues that are shaping their future. Among his many roles as Australia's Chief Scientist, Professor Ian Chubb has been charged with examining this decline and offering strategies to address it.
Professor Ian Chubb is eminently suited to this task.  He was appointed to the position of Chief Scientist on 19 April 2011 and commenced the role on 23 May 2011. Prior to his appointment as Chief Scientist, Professor Ian Chubb was Vice-Chancellor of the Australian National University.  Professor Chubb's research focused on the neurosciences.  Although he jokingly said on the night he would prefer not to be quizzed, on science specifics, by such an informed audience.  He has co-authored some 70 full papers and co-edited one book all related to his research. In 1999 Professor Chubb was made an Officer of the Order of Australia (AO) for "service to the development of higher education policy and its implementation at state, national and international levels, as an administrator in the tertiary education sector, and to research particularly in the field of neuroscience