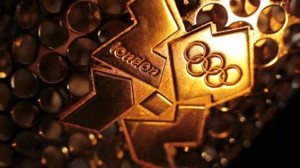 59 Days to go.
Simply put, for those that care about the London Olympics — the excitement is mounting. With 26 sports across 44 venues, 10,500 athletes and millions of spectators, it's going to be a busy summer. From Box-hill to Coventry, and all across London the preparations are almost over and it's almost time for the curtains to go up. Behind the scenes  a workforce of around 200,000 people are being amassed — comprising of around 6,000 paid full-time and temporary employees, up to 70,000 volunteers and around 100,000 contractors. A small army. Add to this another small army of reporters and media that will cover the games from every angle. The American broadcaster NBC will be sending a team of around 2,800 to London. The BBC will deliver a record 2,500 hours of live action from the games, including 26 channels dedicated to each sport. An Olympic staff (in more ways than one) that actually outnumbers Team GB itself by a considerable margin.
As Londoners, nonplussed about it all, make a quiet exit for a few weeks, the city and those unlucky enough to be caught in it, are going to be overrun with tourists, sightseers, and everyone else.
The amount of column inches dedicated to the Olympics, as you would expect, is significant. From the tried-and-tested stories of athletes battling against the odds to make it to London this summer. To the truly bizarre ones of the UK's Ministry of Defence telling residents high-velocity rockets will be fitted to apartment blocks close to the Olympic Park. With round the clock surveillance, and even snipers.
Evidently, in the run-up to the games, tensions and expectations for worse-case-scenarios are high. The threat and danger of anything sparking a problem is clearly in the forefront of the organiser's minds. With millions of extra people added to the melting pot it's not just an extra strain on public services. It goes beyond that — the Olympics should come with a health warning.
Well, in fact, it does. A doctor at the Centers for Disease Control and Prevention (CDC) has told US travellers to make sure they are vaccinated against measles if they travel to London for the Olympics in July.
"Disease knows no borders. We are concerned about Americans coming back from the Olympics this summer and unknowingly infecting others,