A Brief Talk with Andrea Morello, a Leading Australian Quantum Physicist
Let us introduce you a leading Australian quantum physicist and probably one of the most promising scientists in the world. His name is Andrea Morello. He is an electrical engineer and a quantum physicist. At the moment he is Associate Professor in Quantum Nanosystems at University of NSW and a Program Manager in the ARC Centre of Excellence for Quantum Computation and Communication Technology (CQC2T). His research is focused on building a quantum computer based on single spins in silicon. In addition to the research, Andrea is actively engaged in science outreach and education. So, let's start with our talk.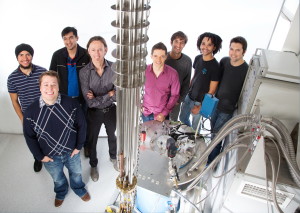 (1) Well, Andrea, we had a brief conversation before this interview and you introduced something about the projects you work on. Could you, please, take a closer look at what you do and explain to our audience what a quantum computing is and how quantum systems work?
A quantum computer is a machine that performs calculations, but stores and elaborates the information into "quantum-bits
Cite this article:
Djekic M (2014-09-26 00:15:34). A Brief Talk with Andrea Morello, a Leading Australian Quantum Physicist . Australian Science. Retrieved: Nov 28, 2021, from http://australianscience.com.au/interviews/brief-talk-andrea-morello-leading-australian-quantum-physicist/